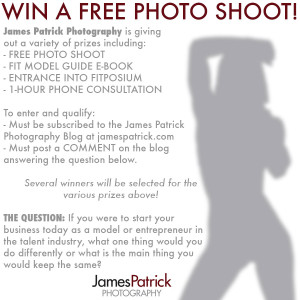 James Patrick Photography is giving out a variety of prizes related to this blog post including:
– PHOTO SHOOT WITH JAMES PATRICK
– COPY OF FIT MODEL GUIDE E-BOOK
– FREE ENTRANCE INTO FITPOSIUM 2015
– ONE-HOUR PHONE CONSULTATION
To enter and qualify here is what must happen.
– You must be subscribed to this blog, which is free to do on my website if you are not already. Note, if you are receiving this in your e-mail, you are already subscribed.
– You must post a COMMENT on this blog answering the question below.
Several winners will be selected for the various prizes above!
THE QUESTION TO ANSWER
If you were to start your business today as a model or entrepreneur in the talent industry, what one thing would you do differently or what is the main thing you would keep the same?
I look forward to your responses! Winners to be announced on or before October 1st.
James Patrick
jamespatrick.com
IG @jpatrickphoto