I am tremendously excited to share with you all some preliminary details for two upcoming events I've been heavily involved in.
FITMANIA ARIZONA NATURAL CHAMPIONSHIPS
Date: September 12, 2015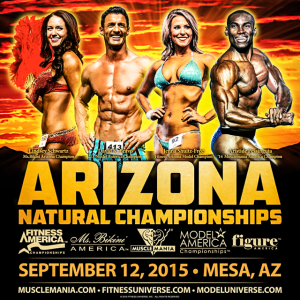 In partnership with Scott White (owner of Personal Power Training) and Nicole Matthews and Heather Vines-Bright (owners of Imprint Fitness), we have received the promoter's license to host the next Fitness America show in Arizona called the FITMANIA Arizona Natural Championships on September 12, 2015 in Mesa, Arizona.
The fitness event will host competitions in categories for men and women including model, physique, bodybuilding, bikini, fitness and figure.
Interested parties can already sign up to participate at FitManiaAZ.com – the site is still under development but it gives you the ability to register today.
Also we are looking for sponsors to help ensure this show is an even bigger success!
If you are interested in being affiliated with this show – please contact me and we can discuss details.
FITPOSIUM 2015
Date: June 6, 2015

In addition, as well as in preparation for FITMANIA, we are also hosting an educational workshop called FITPOSIUM 2015.
At this event on June 5, 2015 we will cover everything talents need to know about the upcoming competition such as explanations of the divisions, judging criteria, wardrobe and more.
However, it will also feature sessions on how you as a fitness modeling talent can establish your brand, market your brand and profit from your brand.
We will soon be announcing some very exciting presenters for this event – but you can register now at FitManiaAZ.com. We look forward to seeing you there!
Thank you so much – these are two events I am very excited about being involved in and hope you can join in!
James Patrick
jamespatrick.com
IG @jpatrickphoto