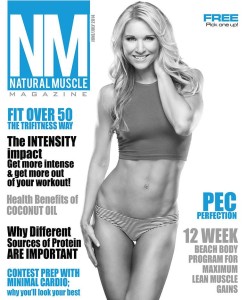 I realize we are a few weeks behind on our monthly featured talent article – but I think you will forgive the delay with the great interview we have to share with you.
It was earlier this year I had the opportunity to meet and work with Meaghan Terzis who came out to Arizona from Canada to work with our team.
Over two days we created a wide variety of exciting and athletic imagery and recently got featured on the cover of Natural Muscle Magazine together.
Below, I discuss with Meaghan a bit about how she developed her brand, ways in which she markets herself to publications and her advice to other talents looking to take a similar path. Hope you enjoy!
James Patrick: How do you differentiate your brand from other fitness talents in the industry?
Meaghan Terzis: I feel that I differentiate myself from other fitness talents in this industry in many ways. One being that I always stay true to myself and the image I portray. I try not to pay too much attention to what everyone else is  doing. I do my own thing and do what's right for me. Just by being me, I set myself apart from others. I am a mother of two and my biggest audience are my children. I want them to look at me as a role  model and be proud of me and all of my accomplishments. Therefore my image has always represented fun, fresh and healthy fitness. I practice what I preach, this is my lifestyle.  There is no off season or extreme dieting, just hard work and having  balance in all aspects of my life.
JP: What do you do to market yourself to publications?
MT: When it comes to marketing myself to publications I really have to take a chance and put myself out there. First I research the magazines and publications I want to work with.  I choose which ones represent my image and my brand. Once I know what publications I want to submit to and work with, I put together an email consisting of a well written bio of myself, photos of past published work ie: covers, adds, and workout features. I also send my most recent work or photos to show how my physique looks at the present time.
JP: You've earned a few media features so far in your career. How do you leverage previous print work you've gotten for further marketing of your brand.
MT: All of my published work I have done I am very proud of. From work out spreads to fitness features, to covers. I am always using social network to market myself and my brand by posting all of my work on my pages and sites. I feel that by posting my work and images I keep my audience engaged, it keeps my name out there and helps me to book future projects with photographers and magazines.
JP: Why is being in the media important to your brand development?
MT: Being in the media is very important to my brand development as I am my own agent. I have to keep my name and face out there. I have to be constantly keeping things fresh by posting new images and new work. It's about keeping people and my audience interested and engaged and building my fan base and followers naturally. Being in the media helps me book new jobs and new projects. It helps me to build contacts and relationships with photographers, magazines and editors and in this industry.
JP: How do you go about selecting the right people to work with such as photographers?
MT: When it comes to selecting the right people to work with, especially photographers, I do a ton of research and ask myself these questions. Do they have a website? Have they been published with magazines and publications I want to work with? Do their images represent  my brand and image I portray? Once they have answered yes to all my questions, its a great time to shoot them an email or a phone call. I personally like to speak with photographers as I get a sense of who they are and vice versa. This helps to keep the communication lines open for both of us. It is almost like an interview to make sure that you are the right fit to work together.
JP: What are the ways in which you market yourself and your brand?
MT: I market myself through social networking, through Facebook, Instagram and Twitter. I am a sponsored athlete with Almax Nutrition and the face of flxyoga. Both of these companies promote me and market me as well through social networking, websites and advertisements. I stay involved in the community and have been featured in many local newspapers and magazines. I have also been very lucky to have worked with some amazing photographers that help market me and my brand to publications and help get my images and name out there in the industry.
JP: Biggest lessons you've learned thus far in the health and fitness industry?
MT: The biggest lessons I have learned thus far in this industry are taking risks and putting myself out there. I used to think things would just fall in my lap and that jobs would just come to me, but as we all know we don't get anywhere in life by just sitting around. You have to take the bull by the horn and work hard to make things happen. With doing this I have learned to deal with rejection and criticism. Not everyone is going to like your image and in this industry people can be opinionated. I know you can't please everyone and that's ok. You need to just shake it off and move on. These lessons have made me stronger and the person I am today. I can thank these lessons for helping me get to where I am in my fitness modelling career.
JP: What advise can you give other fitness talents looking to navigate through the industry?
MT: The biggest advise that I can give to other fitness talents looking to navigate through the industry is to know the image you portray.  Always stay true to yourself and your image. Research your photographers. Don't just shoot with anyone with a camera. Stay strong and be patient, things don't happen overnight but with hard work and persistence you can make anything happen.
JP: Lastly, what comes next in your career?
MT: Well, this is a good question. The skies the limit. I have been very fortunate to have a very successful fitness modelling career thus far and as long as I am in shape, and keep living a balanced lifestyle I will continue to fitness model. Ultimately I would like to work with more publications all over the world and make more contacts within the industry. I am also looking in to taking some nutritional courses as this is something I am quite passionate about.    
Special thanks to Meaghan for being a part of this feature. You can connect with her through her Facebook Page, Twitter and Instagram @meaghanterzis
James Patrick
jamespatrick.com
instagram @jpatrickphoto