On May 5, 2015 the James Patrick Photography team had the opportunity to photograph Arizona Diamondbacks' Outfielder AJ Pollock for the June issue of Scottsdale Health Magazine.
For this editorial project we had roughly 15 minutes to create images for both a cover as well as a four page interior spread and a fifth image for the table of contents page. In order to achieve this number of shots we had to plan the shoot out in advance.
Working with the publication's Creative Director we collaborated to develop a series of image concepts we wanted to work to capture while on set at Chase Field in Downtown Phoenix.
Our order of priority involved getting the cover shot first, which needed to be shot against a white backdrop to match the publication's branding, followed by the interior shots that we wanted to shoot on the field and in the dugout.
With only a quarter of an hour to work with it was important that all our concepts be prepared ahead of time and executed as efficiently as possible while on set.
The day of the photo shoot the team involved my lead assistant, the publication's Creative Director as well as Editor in Chief and myself. We arrived an hour before the shoot time to get set up.
To save time we set up two different sets of lights. On the main concourse of the stadium we built up our mobile studio with our lighting equipment and we set up another set of lights down in the dugout area.
This way, when AJ Pollock arrived, all we had to do was walk him from one area to the next without him having to wait additional time for us to tear down the gear and set it up again in a new location. Everything was set up and metered leaving us enough time to review final concepts before he arrived on set.
Fortunately this was the case as he was brought on set a few moments early.
After brief introductions myself along with the Creative Director reviewed the poses and shots we would like to try and capture by showing him tear sheets from magazines as well as some digital samples we had brought with us.
Then we were off and shooting starting with the studio set up where we photographed AJ in his uniform with and without his cap as well as with and without bat and glove in a wide array of poses to develop as many pose options as possible for the cover.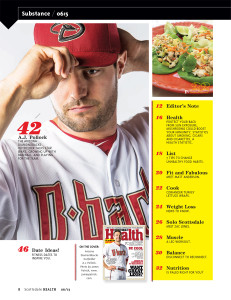 After about ten minutes we shifted gears and walked him down to our next photo set up which was set on the dugout bench where we created some additional environmental portraits.
For the last few frames we had him stand on the stairs leading out onto the field where we lit him with a strong rim light and dragged the shutter to show as much of the stadium in the background as possible.
Confident I had all the shots we needed I asked my assistant the time and we were right on time to wrap.
This was the behind the scenes view on how we created the cover and 5 interior pages of the publication in a quarter of an hour.
James Patrick
IG @jpatrickphoto
jamespatrick.com