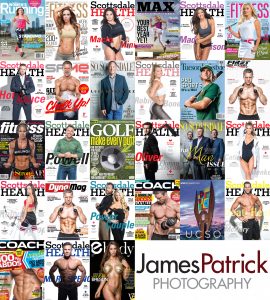 In 2018 I had the pleasure of working on a wide variety of magazine covers for clients including:
• Golf Magazine
• Women's Running Magazine
• Fitness Magazine
• Modern Fitness Magazine
• and more!
My team and I were fortunate to work with a variety of professional athletes, television stars, models, business owners, actors and even some still art to make these covers happen.
I want to send out my sincerest thanks to the entire James Patrick Photography team for making all these projects a success.
But, most importantly, I want to thank all of our amazing clients, art directors, photo editors and creative leads who gave us these unparalleled opportunities!
Thank you so much – happy New Years and let's make 2019 even better!
PS… hope you check out my book Fit Business Guide: The Workout Plan for Your Brand available on amazon!
James Patrick
@jpatrickphoto
jamespatrick.com